About Scanhancer, the Happy Scanning Company

Hi, I am Erik, a Dutch photographer/filmmaker and founder of Scanhancer, the Happy Scanning Company.

In 2002, being the user of a Minolta Dimage Scan Multi Pro (and being as critical as I am) I wasnít quite satisfied with the performance of it initially. Since there werenít many alternatives in the price class of this filmscanner I thought of how to improve its performance and I did some experiments. The results were instantly very encouraging and I informed Bo Wrangborg, the Swedish moderator of a Multi Pro user group on the internet, about my findings. Bo (also called The Viking) did his own tests and came to similar results. A fruitful co-operation was born.

Several months of exchanging materials and even more emails from Holland to Sweden and vice versa followed. Slowly it became evident that finding the truly right material was a real pain. We wanted to maintain (and preferably improve) the scannerís ICE functionality while at the same time gaining maximum grain suppression effect and improvement of gradation. Many potential suppliers were pushed to their limits, but they all failed to come up with the material that we needed. Finally I decided to take a leap in the dark, hoping that there would be enough people willing to pay for their own piece of scanning comfort, and I had a whole batch of optical material custom made to my own specifications. The Scanhancer 5LE saw the light!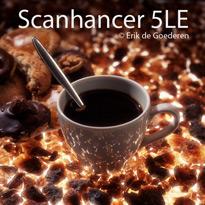 To my surprise the Scanhancer became an instant hit amongst the Multi Pro users from the famous user group. At last we could do some Viking berserking to celebrate that our scanners finally did what we expected them to do: making fantastic scans, rivaling the quality of wet mounting drum scanners. Nowadays, thanks to the great support of all the pioneers who initially bought the Scanhancer 5LE, we are able to offer this magical item to rest of the world.

Erik